The Philosophy Statement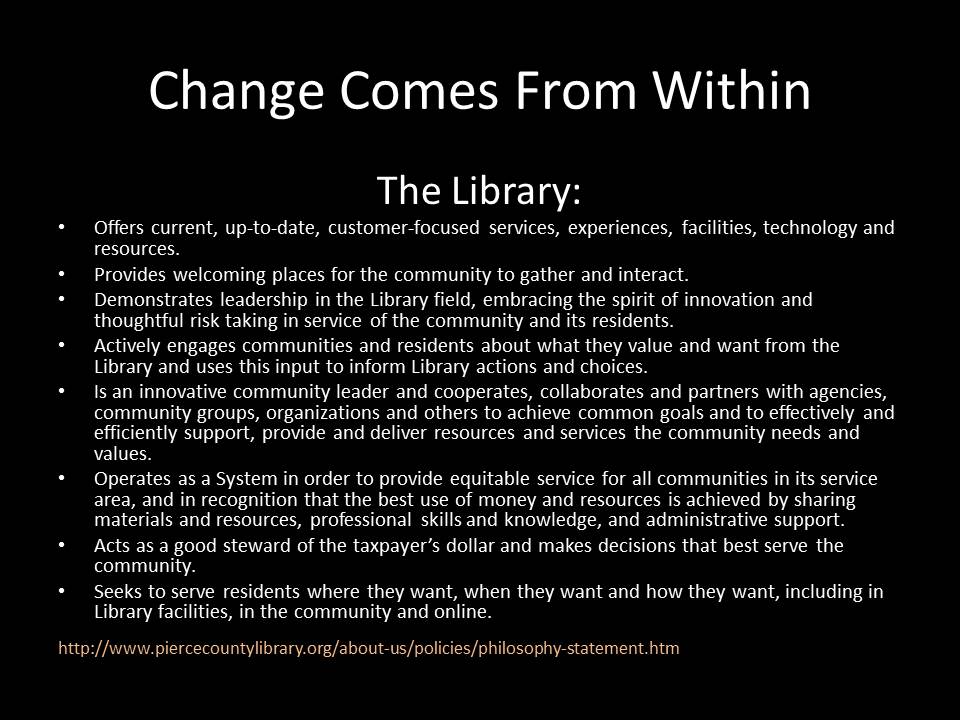 So the library needs to make some changes to its underlying models if it wants to continue operations and not be consigned to the dust bins of history. For some of us, that means re-evaluating what we're saying in our mission statements and our philosophies. I like to pick on my own institution, because I like them and want them to do better, and because I have firsthand experience with how things go (or don't) with ideas, so here's what my library says in our Philosophy Statement:
The Library:
Offers current, up-to-date, customer-focused services, experiences, facilities, technology and resources.
Provides welcoming places for the community to gather and interact.
Demonstrates leadership in the Library field, embracing the spirit of innovation and thoughtful risk taking in service of the community and its residents.
Actively engages communities and residents about what they value and want from the Library and uses this input to inform Library actions and choices.
Is an innovative community leader and cooperates, collaborates and partners with agencies, community groups, organizations and others to achieve common goals and to effectively and efficiently support, provide and deliver resources and services the community needs and values.
Operates as a System in order to provide equitable service for all communities in its service area, and in recognition that the best use of money and resources is achieved by sharing materials and resources, professional skills and knowledge, and administrative support.
Acts as a good steward of the taxpayer's dollar and makes decisions that best serve the community.
Seeks to serve residents where they want, when they want and how they want, including in Library facilities, in the community and online.
Not bad, yeah? It's a lovely, lofty goal. And if we can achieve this, we'll be rock stars.
BUT...